Council of the Year:
Washington Council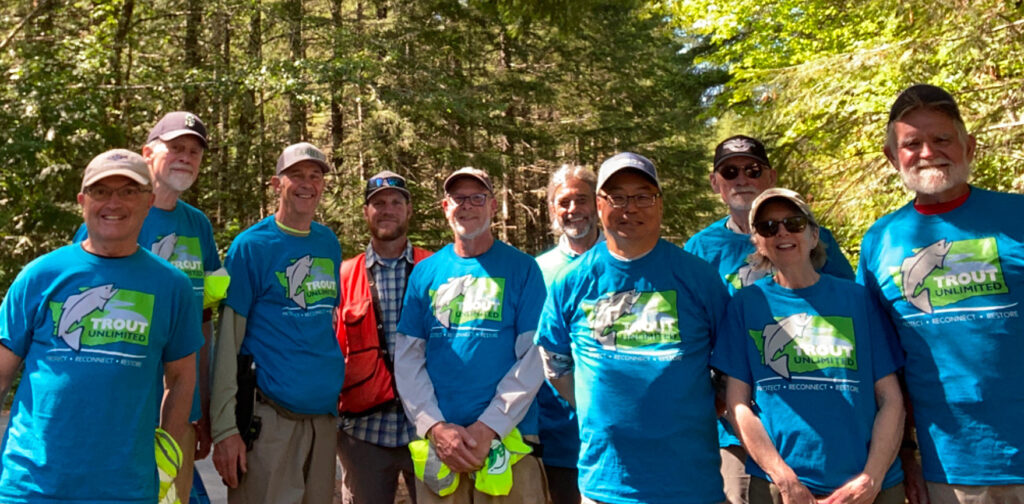 Through deeply dedicated grassroots leaders and close partnerships with TU staff, the Washington Council of Trout Unlimited is working to care for and recover the Evergreen State's iconic salmon and trout populations and building a powerful community of volunteers and anglers.
In the past few years, WCTU has partnered with the North Sound Chapter to produce a video celebrating Skagit River steelhead spawning surveys and citizen science; moved ahead with habitat restoration on Hangman Creek, a key tributary of the Spokane River; coordinated with TU staff to address a failing culvert in the Yakima River Basin; and helped support the first phase of crucial population monitoring for Native Westslope Cutthroat in the Methow River watershed. They continue to ensure that their legislative work to pass new laws protecting headwater spawning and rearing habitat from mechanized suction dredge mining is properly enforced by the state, and they brought volunteers, chapter representatives and TU staff together to advocate for conservation bills and key funding for Snake River dam removal infrastructure planning during this winter's Advocacy Day in Olympia. For twenty years they have helped young people become anglers and conservationists through the Northwest Youth Conservation and Fly Fishing program. More recently, the Council has spearheaded a growing women's angling and DEI initiative, and launched a new Service Partnership program, to welcome a wider range of new members into our community.
Under Pat Hesselgesser's leadership and vision, the Washington Council has increased volunteer participation and enthusiasm. By recognizing and harnessing the unique skills and passions of Council leaders, Pat has created a vibrant and dynamic network of people dedicated to conserving Washington's coldwater resources. The Council has developed a robust online presence, utilizing social media platforms and their website to share information, promote events and engage with the public. Their regular newsletters and publications provide valuable updates on conservation projects, volunteer opportunities and success stories, keeping members and the wider community well-informed and inspired.
In Washington State, the Supreme Court has mandated that culverts and other small barriers to fish passage must be repaired to reconnect critical habitat for struggling salmon and steelhead populations, but data collection evaluating the thousands of culverts across Washington is lacking. Recognizing a problem where volunteers could be an important part of the solution, Steve Miller, the chair of the WCTU Conservation Committee, created the Council's Barrier Assessment Team (BAT) program. BAT volunteers receive training to evaluate fish barriers and properly contribute to state databases. Multiple BAT teams are now active throughout the state, helping county, state, TU staff, and federal partners catalog and prioritize fish passage barriers for removal. A key partnership between the BAT program volunteers and the Mt. Baker-Snoqualmie National Forest was a critical component leading to TU's work on the new Snoquera Project, a partnership with the US Forest Service to approach landscape scale restoration to restore and reconnect Spring Chinook habitat in South Puget Sound watersheds in the national forest.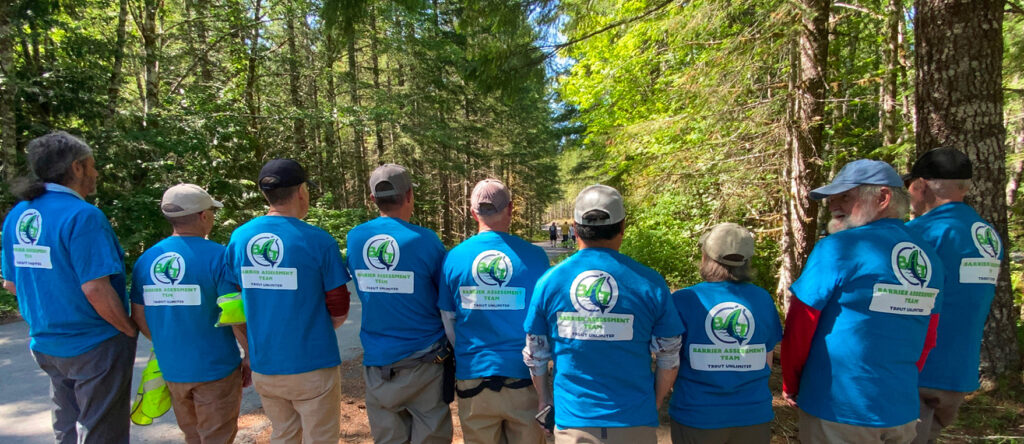 Gold Trout:
Rocky Mountain Flycasters (CO)
The Rocky Mountain Flycasters Chapter takes innovative and thoughtful approaches to building community and advancing Trout Unlimited's mission. The creativity, dedication and commitment of the chapter's leaders has resulted in a high-functioning organization that serves its community and state, engendering community involvement, inclusion and conservation advances.
Despite facing numerous challenges, including wildfires and flooding, the chapter's leaders have shown exceptional creativity and commitment. They have formed coalitions with stakeholders, agencies, and nonprofits to address post-fire and post-flood actions, becoming a model for Northern Colorado Basins. The chapter's involvement in the Big Thompson Watershed Coalition and the Coalition for the Poudre River Watershed has allowed them to actively engage in restoration and education programs. RMF's flagship conservation program, the Poudre Headwaters Native Cutthroat Restoration Project, focuses on reintroducing the threatened Greenback Cutthroat Trout into over 38 miles of streams in the region. They collaborate closely with Colorado Parks and Wildlife, the US Forest Service and the National Park Service to achieve this goal while also involving volunteers in field work, community science and monitoring.
RMF excels in communication and outreach efforts, utilizing various platforms to engage a broad audience. They have upgraded their website and integrated it with social media platforms, allowing them to effectively communicate with a big and diverse group of anglers and coldwater conservationists. A monthly newsletter is shared via email, Facebook, and Instagram, and their events calendar serves as a hub for coldwater conservation and education opportunities, linking events with fly shops, partner organizations, other TU chapters, and agency partners. RMF's community engagement spans multiple levels, including participation in community-wide festivals and events, providing classes for underrepresented communities, organizing chapter events and establishing partnerships with local businesses.
RMF actively cultivates future leaders through a robust leadership development program. Their commitment to diversity is exemplified by the inclusion of a CSU Fisheries student and a CSU Costa 5 Rivers Club member on their board. The chapter fosters a culture of gratitude through annual volunteer recognition events, acknowledging the outstanding work of their volunteers and promoting a path from volunteering to leadership. Through innovative fundraising strategies, including sustaining donors, corporate sponsorships, grants and community activities, RMF ensures the financial sustainability of their programs.
This chapter's continuous growth, effective leadership and impactful initiatives make them an exceptional choice for TU's highest award for chapters, the Gold Trout Chapter Award.
Silver Trout:
Oakbrook (IL)
The Oak Brook Chapter has overcome geographical challenges to become a shining example of dynamic, innovative and generous coldwater conservation efforts. Despite lacking nearby coldwater resources, the chapter has collaborated with neighboring states like Michigan and Wisconsin, providing volunteer support for various projects, including macroinvertebrate surveys and invasive species removal. Locally, they actively participate in workdays like the DuPage River Cleanup in Naperville.
Oak Brook TU's advocacy efforts extend to Illinois and the Great Lakes, where their knowledgeable leaders contribute to the Great Lakes National Leadership Council Workgroup and engage in local partnerships to advocate for important issues like invasive carp and Great Lakes Restoration Initiative funding.
Their effective communications keep members and subscribers informed about upcoming events, meetings and workdays through regular emails, an attractive website and engaging social media pages. Their strong fundraising skills are evident in well-attended events like their Holiday Party, which not only brings the community together but also raises impressive dollars to ensure the success of their chapter and programs. The chapter sets itself apart through its extensive community engagement efforts, offering a variety of programs, including monthly meetings, Trout on Tap nights, the Breakfast Club, fly tying events and fly-casting sessions. Their remarkable youth program stands out, featuring a multi-day Youth Camp, Youth Fly Fishing Program, Wet Bugs classroom program and Trout in the Classroom releases for 10 schools. Additionally, they recently launched a STREAM Girls Camp, providing opportunities for girl scouts in the Chicagoland area.
The chapter's leaders place a great deal of emphasis on empowering future volunteers, from making their events a welcoming place for young people, to breaking down the barriers to fly fishing, making the community a bit less intimidating for beginner anglers, to offering countless learning opportunities to train volunteers for their youth programs.
The time, physical work, and dedication that this chapter gives to its community every day is remarkable and inspiring, and incredibly deserving of TU's Silver Trout Award.
Distinguished Service in Conservation:
Harvey Morrison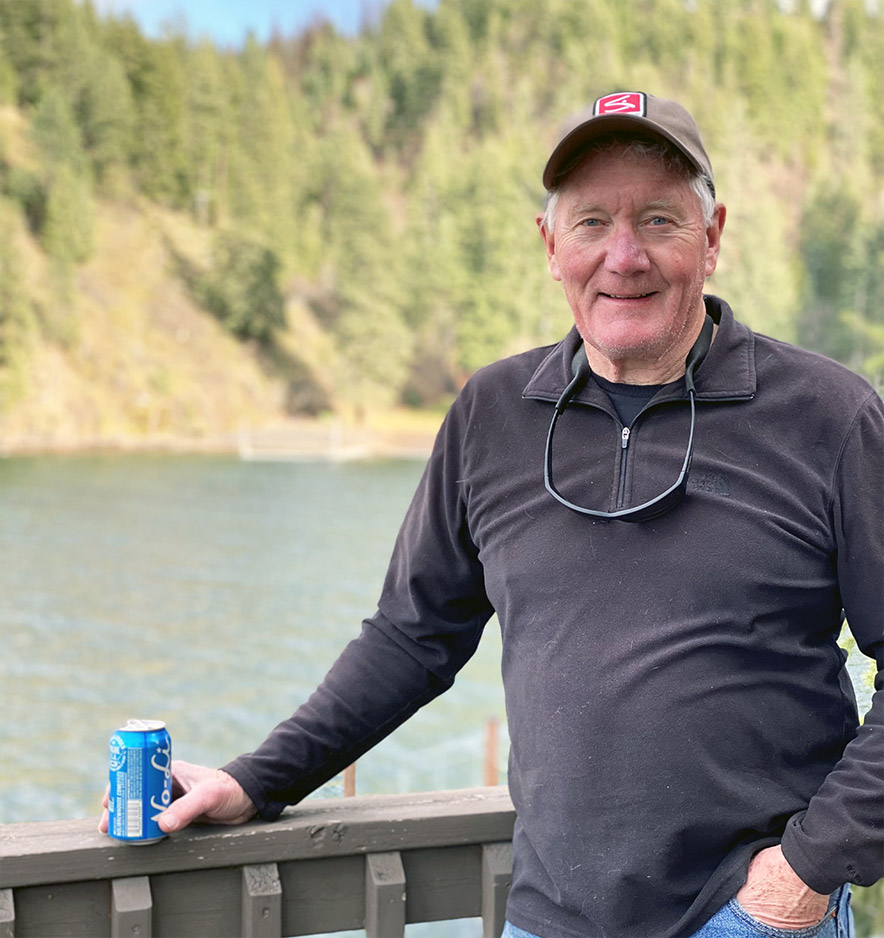 When the four Lower Snake River Dams are finally breached, Harvey Morrison will be among the key visionaries celebrated for their tireless advocacy to restore a free-flowing Lower Snake River and rebuild the region's iconic salmon and steelhead runs. Harvey grew up in the region and recalls the watershed before the dams were built, often sharing those memories to remind all of us of what was lost and what could be restored. He has long been a staunch supporter of grassroots efforts to educate the public about the need to remove the dams. Most recently, he was instrumental to bringing TU President and CEO Chris Wood to Spokane to speak about TU's work to breach the dams. Morrison also spoke at the event.
As important as it is, Harvey's commitment to Eastern Washington's native salmon and trout and coldwater resources extends far beyond the campaign to remove the Snake River Dams. He is a long-time, stalwart member of the Spokane Falls Chapter of Trout Unlimited, where he has served many leadership and advisory roles including as the Chapter's past President. He is a fierce advocate for the Spokane River watershed and its native Redband Rainbow Trout and was key to establishing it as one of TU's Priority Waters. He spearheaded and managed a restoration project on a key tributary that installed nearly 4,000 feet of fencing, planted over 800 willow and cottonwood seedlings, and established an off-stream cattle watering site to establish and restore a 2.5 acre riparian buffer to improve water quality and cool the stream temperatures. Harvey's commitment to collaboration has fostered strong partnerships with local landowners, government agencies and community organizations, leading to the successful implementation of numerous conservation projects.
In addition to his conservation work, Harvey has been an influential mentor and educator, sharing his knowledge and passion for the environment with TU volunteers and especially with students in the Spokane area. Through his engaging presentations and field trips, Harvey has inspired countless individuals, young and old, to develop a deep appreciation for their local watershed and become active advocates for conservation.
His leadership, coupled with his deep knowledge of water management and tireless volunteer commitment has left an indelible mark on the conservation landscape in Spokane and serves as an inspiration to us all.
Betty Winn Distinguished Service for Anadromous Conservation:
Amy Cordalis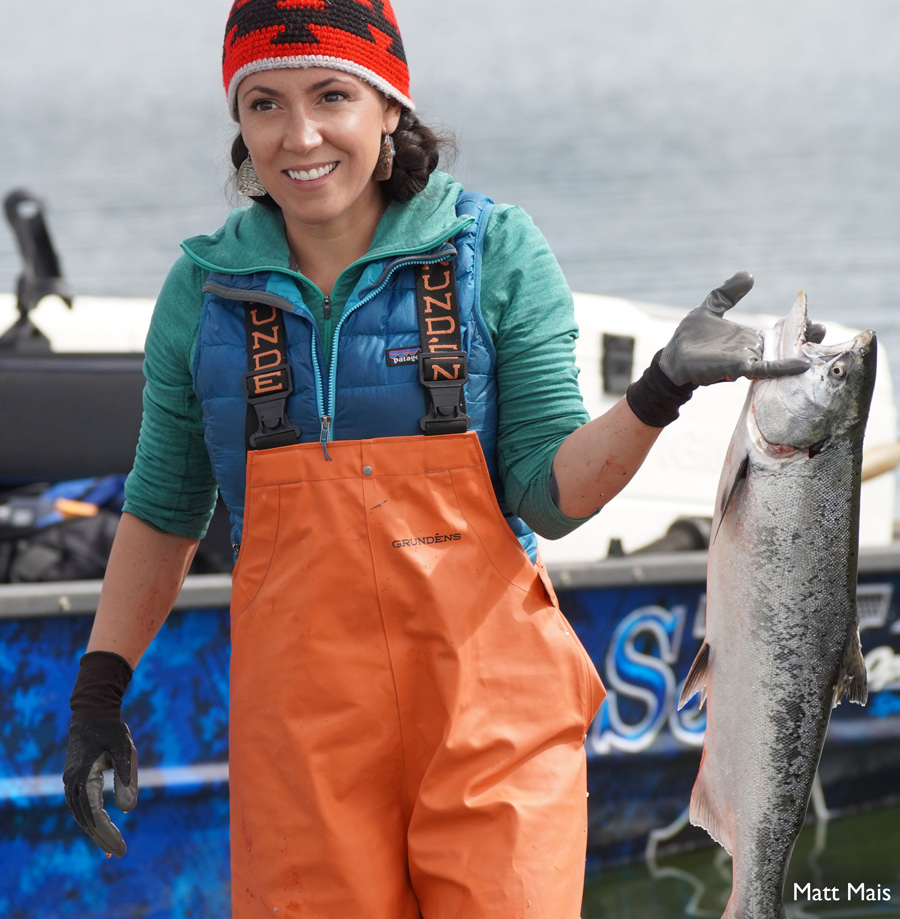 On the Klamath River, the largest dam removal and river reconnection project in world history is now underway. In the coming years, four dams in California and Oregon will be removed, improving water quality and allowing salmon, steelhead, and lamprey to regain access to 420 miles of habitat in the upper basin for the first time in over a century. Dam removal is the result of tireless advocacy, problem-solving, and negotiation from a broad coalition of tribes, conservation organizations, fishing advocates, and agencies. Amy Cordalis has been a leader in the movement to heal the Klamath River and build durable solutions for the watershed's communities and ecosystem.
The Klamath River is Amy Cordalis's home water. A member of the Yurok Tribe, Amy and her family have fished the Klamath since time immemorial. In 2002, Amy witnessed the devastating Klamath fish kill firsthand while working as a seasonal fisheries technician. The experience inspired her to earn a law degree and return to fight for dam removal and assert the Tribe's rights to adequate supplies of clean water.
Amy has served as general counsel for the Yurok Tribe and was a staff attorney at the Native American Rights Fund. Today, she is an attorney for the Tribe and a co-founder of the Ridges to Riffles Indigenous Conservation Group, an Indigenous-led conservation organization whose mission is to help Indigenous Peoples protect and restore the natural and cultural resources they rely on to maintain their identity and sovereignty. She is a board member of Trout Unlimited and the Klamath River Renewal Corporation, the nonprofit created by advocates to take ownership of the four Klamath dams, manage their removal, and revegetate the former reservoir sites with native plants.
Jack Williams Award for Applied Conservation Science:
Tom Quinn
Recently retired from full-time teaching and research at the University of Washington, Professor Tom Quinn deserves massive thanks for the huge body of research and writing on Pacific Rim fisheries and especially on salmon and trout of the Pacific Northwest and Alaska. Notwithstanding his very urban roots in New York City, Professor Quinn migrated westward after college, completing his master's degree and then Ph.D. in the Fisheries Department at the University of Washington. After spending a few years at the University of British Columbia, Professor Quinn returned to the University of Washington where he taught—or rather inspired—students for over thirty years. His research and teaching encompassed virtually every aspect of the behavior, ecology, evolution, and conservation of Pacific salmon, trout, and char, and their ecosystems. His curiosity has led him to explore everything from how salmon home to their natal streams, to how bear predation enhances salmon ecosystems, to how salmon and trout recolonize streams after dam removals, to how salmon transplanted to the Southern Hemisphere adapt, and to how human activities have impacted the evolution and ecology of trout and salmon. Capping off the hundreds (yes, hundreds) of scientific papers, his seminal book, The Behavior and Ecology of Pacific Salmon and Trout (2018) is a beautiful and accessible work that dives deeply into all aspects of the life cycle of Pacific salmonids.
Professor Quinn's legacy is not merely the words he has put on paper. He dons his waders and works in the field. For decades, he has traveled to Alaska's Bristol Bay region with students to provide training and conduct hands-on research into limnology, juvenile fish ecology, spawning behavior and life history of adult salmon, population dynamics, and fishery management. Indeed, as a field ecologist, Tom is well-known in the communities surrounding Lake Iliamna where he led a field research program for nearly thirty years, bringing his knowledge and passion to the region, and to the generations of students who have had the opportunity to walk streams and categorize bear-killed salmon alongside him. His decades of work on salmon in Alaska were instrumental in the successful efforts to halt the Pebble Mine project that jeopardized the sockeye salmon runs in Bristol Bay. His efforts were even recognized by the White House at a Rose Garden ceremony in May.
Yet, Tom's most lasting legacy will be the students he has taught and inspired. His enthusiasm, scholarship, careful research, and love of trout and salmon have inspired several generations of students to emerge as leaders in salmon and trout conservation. His students are now leaders in government agencies, conservation organizations, academia, and industry. Those leaders will undoubtedly carry on Tom's legacy and enthusiasm for many future generations to care about conserving salmon and trout. Trout Unlimited is incredibly thankful for Professor Quinn's lifelong work and inspiration, and we can think of no one more deserving of the Jack Williams Award for Applied Conservation Science.
Distinguished Service in Communications:
Linnea Turner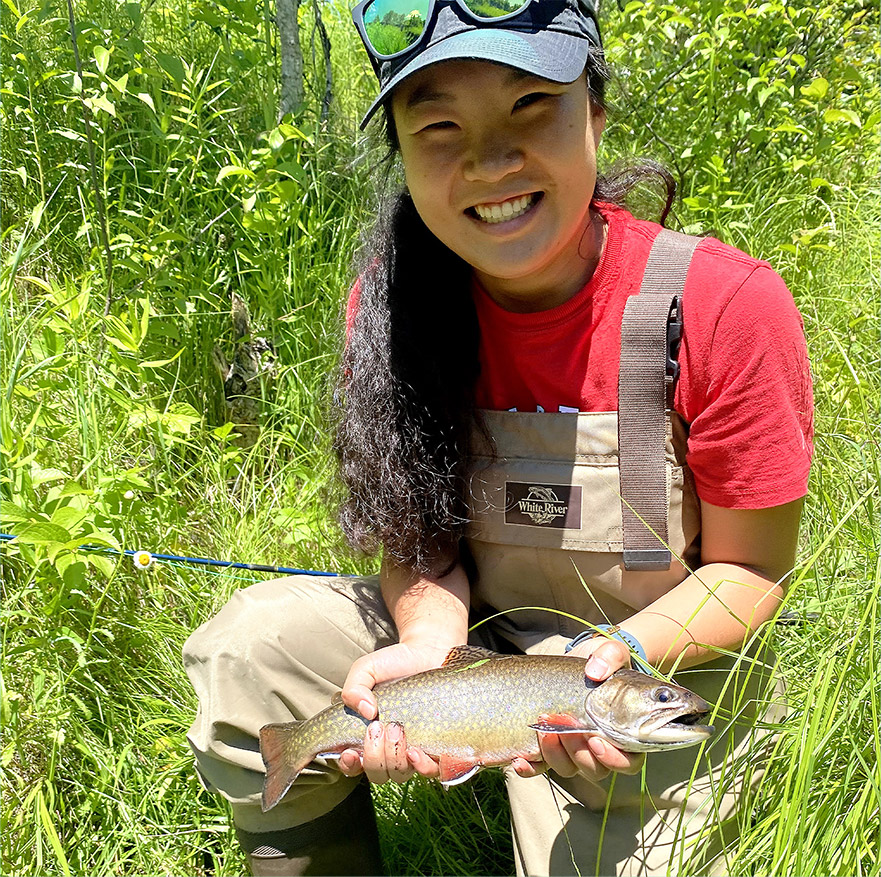 Linnea Turner made a significant impact during her tenure as a TU Costa 5 Rivers College Program leader. As the host of the Emerging Podcast, she successfully managed the entire production process, conducting interviews with a diverse range of guests, including TU staff, volunteers, industry partners, researchers and 5 Rivers students. Linnea's strength lay in her ability to connect with listeners who may be new to fly fishing or conservation, inspiring them to engage in TU activities and pursue their passions.
In addition to her podcasting role, Linnea actively contributed to TROUT magazine, TU's digital publication and managed the 5 Rivers social media accounts. Her work included compiling features on 5 Rivers Clubs, highlighting their commendable contributions to their communities. Linnea's commitment to 5 Rivers extended beyond her internship responsibilities. She represented the program at the Great Waters Fly Fishing Expo and reached out to other 5 Rivers clubs in the Midwest, encouraging their participation and recording conversations with attendees for her podcast.
Prior to her role with 5 Rivers, Linnea gained experience as a seasonal technician on a TU field crew in northern Wisconsin. Her dedication and passion for conservation were evident when she traveled hours to attend the 5 Rivers Midwest Rendezvous and subsequently submitted an article about the event, which was published in TU's digital magazine.
Throughout her tenure as a 5 Rivers leader, Linnea demonstrated exceptional leadership within the 5 Rivers program, embracing her curiosity and inviting others to join the conversation. Her contributions have left a lasting mark on TU and have been a source of inspiration for many.
Distinguished Service in Youth Education:
Dick Shinton
Dick Shinton's dedication to Youth Education has had a profound and lasting impact on his local chapter, state council, and hundreds of young people throughout Colorado. As a longstanding volunteer and leader of the Colorado River Conservation and Fly Fishing Camp for teens, Dick has been instrumental in shaping the program for 15 of its 18 years of existence. He fully embodies Trout Unlimited's values and recognizes that engaging youth from diverse backgrounds is crucial to the sustainability of TU's mission.
Dick's contributions to the camp go beyond being a counselor and co-director. He invests numerous hours each year in planning and executing the program, ensuring a balanced focus on conservation awareness and fly-fishing skills. Drawing on his experience as a retired Human Resources manager, Dick creates a welcoming and supportive environment for both youth and fellow volunteers. His mentoring of youth counselors and dedication to their leadership development exemplify his commitment to fostering lifelong relationships.
In addition to his involvement with the Camp, Dick has played an integral role within the St. Vrain Anglers Chapter of TU. Since 2007, he has served on the board and held various positions, including Treasurer and Youth Education Chair. His visionary leadership led to the establishment of the Kids Learn to Fly Fish program, which has engaged young people aged eight to 13 in fly fishing and stream conservation. The program, delivered annually over six sessions, has attracted over 150 participants and garnered significant volunteer support. Dick's proactive approach in connecting engagement programs, such as Kids Learn to Fly Fish and the State Council teen camp, has paved the way for youth to become lifelong leaders within TU.
Dick consistently volunteers for various TU projects at both the chapter and council levels, sharing his knowledge and passion for TU's mission. His exemplary dedication and partnership have inspired others to engage with youth and become advocates for coldwater fisheries. Dick Shinton's leadership, mentorship and tireless commitment embody the spirit of TU and make him incredibly deserving of the Distinguished Service for Youth Education award.
Distinguished Service in Leadership:
Russ Meyer
Russ Meyer has made the leadership rounds familiar to local TU volunteer leaders – holding various board and officer positions, coordinating habitat projects and leading local chapter fundraising efforts. First in the 90's in Missouri, as an active member of the Mid-Missouri Chapter and later in the 2000's after a move to Nevada as part of the Sagebrush TU Chapter, where he currently serves as Chapter President.
Russ' knowledge of the inner workings of a TU Chapter led to his role as a regional representative on TU's volunteer Embrace A Stream Committee in the early 2000's. Since its inception in 1975, EAS has funded more than 1,150 individual projects with more than $4.9 million in direct cash grants to local TU Chapters. Through this involvement with EAS, Russ came to understand the positive impact that just a single grant can have on a local Chapter. When the opportunity to Chair the committee came in 2015, Russ Meyer was a natural fit. He went on to lead the program admirably over the next eight years, despite facing challenges of declining funds to distribute and a global pandemic. Russ helped institute changes to the iconic EAS program that streamlined and simplified the grant process through a digital application and online training sessions. As crowd-source funding became available to grant recipients, Meyer helped make sure as many chapters as possible would have access to this new fundraising opportunity.
There was a period where EAS funds were only distributed to the very best written grant applications, leading to a highly competitive, and sometimes combative, process. Russ recognized the need to spread the wealth more and helped change the culture around the program to be more supportive of all of our applying chapters. He knew that even partial funding for a project through the EAS program might be enough of a boost for a local chapter to pull in other partners and revenue streams to see the project fulfilled.
Russ Meyer takes a "listen first" approach to leadership. Never quick to judge or jump to conclusions, his ability to hear different points of view and find the common thread has guided many difficult decisions within the EAS Committee. He's always been welcoming to new volunteers and willing to share the knowledge and resources needed to help the regional representatives be more effective in their service to our local TU chapters. Through his many years of service, Meyer has truly demonstrated distinguished service in his leadership.
Conservation Professional Award:
Matt Jaeger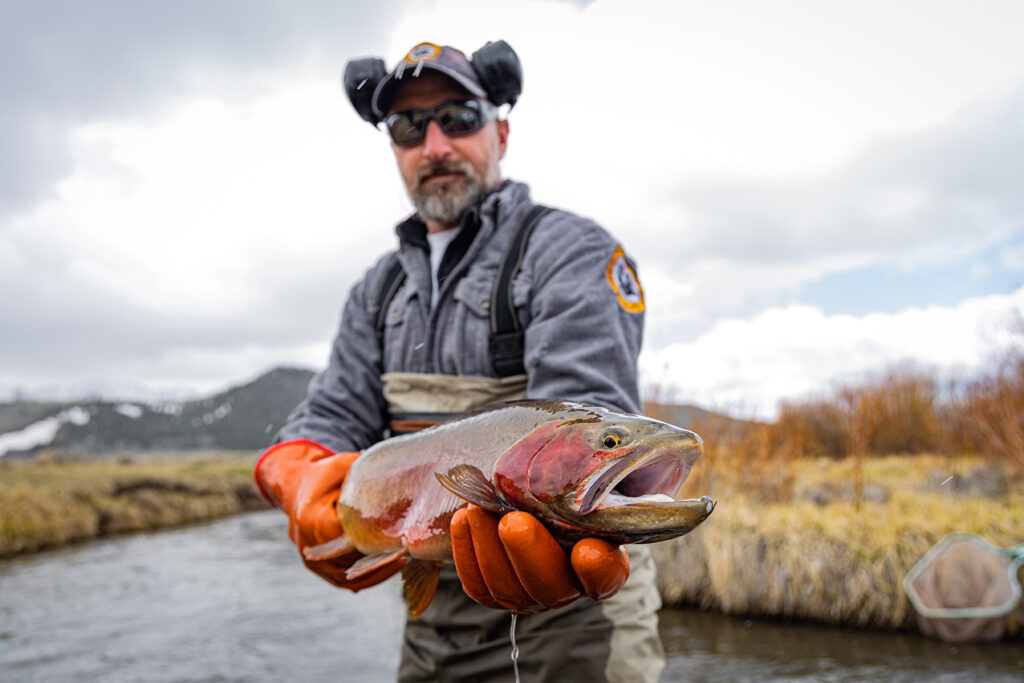 In his career as a Fisheries Biologist for the Montana Department of Fish, Wildlife and Park, Matt Jaeger has been a champion of Montana's native fish, a critical partner among diverse stakeholders, and a powerful advocate for hard science informing fish management and recovery actions. He led the data collection effort and use of the new date to develop the Westslope Cutthroat Trout Conservation Strategy for the Missouri River Headwaters of Southwest Montana. This Conservation Strategy encompasses about 17,378 mi2 of the Upper Missouri drainage and includes the Beaverhead, Big Hole, Boulder, Gallatin, Jefferson, Madison, Red Rock, Ruby, and Upper Missouri River sub-basins. Over the last decade, Matt has been instrumental in adaptive management strategies and conservation planning to protect and recover populations of Montana's Grayling, a rare, endemic population in the lower 48 found exclusively in the Upper Missouri River Basin of Southwest Montana. As a part of this critical work, he has coordinated and led efforts to model and experiment with solutions for limiting factors involving Grayling spawning habitat, overwintering habitat, and competition from non-native Yellowstone Cutthroat Trout. Beyond trout and grayling, Matt has conducted important research informing the management of native sauger and the little-known Pallid sturgeon.
While building comprehensive data-collection efforts and innovative management strategies, Matt also has also been deeply committed to honest outreach, collaboration and problem-solving with the public. During historic drought, Matt's thoughtful, respectful conversations among diverse water advocates and stakeholders have gone a long way towards maintaining emergency minimum flows for native coldwater fish in the Red Rock, Ruby and Beaverhead. As a commitment to this work, Matt is partnering with MTU and TU to develop strategies across FWP's Region 3 to improve water availability through conservation practices and irrigation efficiency projects.
A trip to Montana's Centennial Valley when he was 12 years old instilled a goal to eventually become a fisheries biologist and to work there. Matt realized his lifelong dream in 2010 when he moved to Dillon where he fishes, hunts, boats, hikes and camps with his wife Rosa, sons Everett and Dargan, and dogs Milli and Allie when not working to serve the public in Southwestern Montana.
Corporate Conservation Partner:
Patagonia
Patagonia's unwavering commitment to environmental stewardship and advocacy in support of coldwater conservation and wild fish has been instrumental in raising awareness and mobilizing communities across the world. Patagonia's dedication to sustainability and environmental activism is deeply ingrained in the company's ethos. Since its inception 50 years ago, Patagonia has demonstrated an unparalleled commitment to giving back to the planet.
One of the most remarkable aspects of Patagonia's conservation efforts is its 1% for the Planet initiative and related grants program, Patagonia Action Works. Through this visionary program, the company donates one percent of its annual sales to support grassroots environmental organizations, including TU. Last year, Patagonia granted more than $1,265,000 to groups protecting wild fish, free-flowing rivers, public land protection and clean water. This invaluable financial support, along with generous clothing and gear donations, has bolstered fish and river conservation projects, enabling many organizations to undertake critical restoration initiatives, advocate for vital policy changes, and engage communities.
Patagonia has also been a leading advocate for campaigns important to TU. The company uses its immense reach and influence to raise awareness about critical conservation, sustainability and climate change issues and encourage its customer base to take action on behalf of these important efforts. Their campaigns have sparked a movement of conscious consumers who prioritize the protection of our natural resources.
Patagonia's tireless advocacy work in support of removal of the four Lower Snake River dams has been instrumental in raising awareness of the issue. They have utilized their platform and resources to amplify the voices of scientists, indigenous communities, anglers and conservationists who have long called for dam removal. Through their campaigns, storytelling, wild fish activists and "Damnation" film, Patagonia has shed light on the devastating ecological impacts of these dams and the urgent need for their removal. Patagonia's commitment to empowering local voices and communities and demonstration of the interconnectedness of environmental conservation, economic vitality and social well-being has been pivotal in building a powerful coalition advocating for the restoration of the Snake River and its salmon populations.
Patagonia's unwavering commitment to sustainable business practices set the gold standard for the industry. From sourcing eco-friendly materials, commitment to sustainable and regenerative food, and reducing its carbon footprint, Patagonia actively pursues innovative solutions to mitigate its impact and encourage other organizations to follow suit. Last year, they took an unprecedented step to reorganize their structure and now 100% of the company's profits will go towards the Holdfast Collective, a new environmental nonprofit formed to fight climate change and protect nature. As they make this exceptional commitment, Patagonia continues to set an extraordinary example for corporate responsibility and environmental stewardship.
Washington Council's Tim Gavin Steelhead Award:
Dave Bouta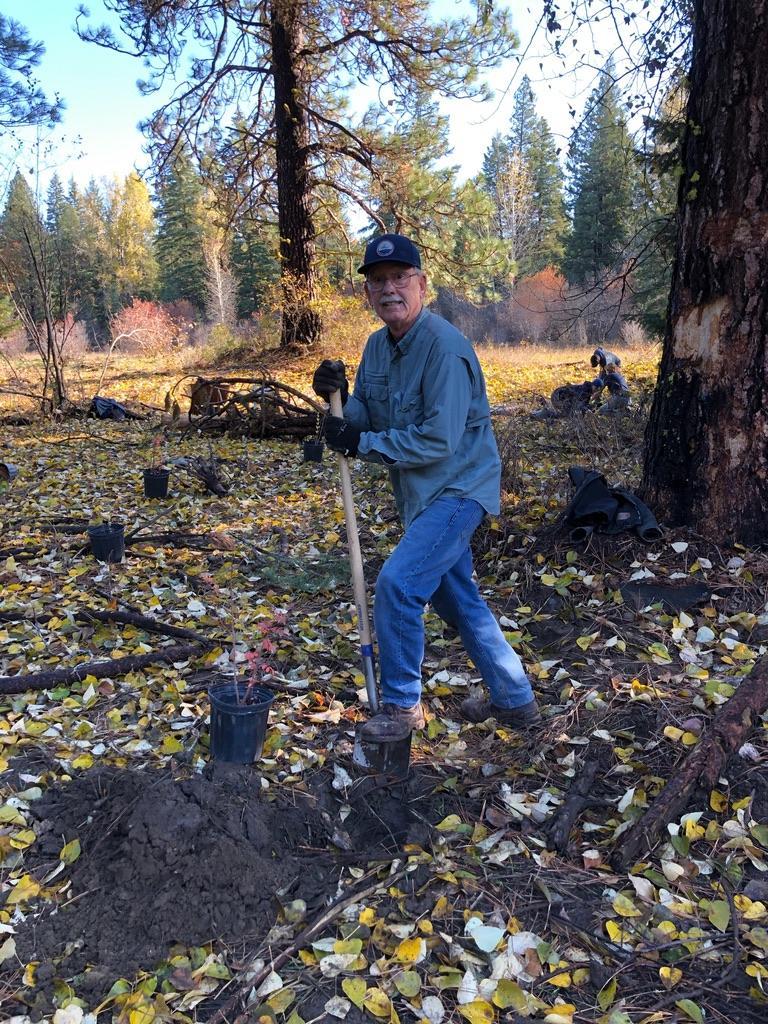 The Washington Council's Tim Gavin "Steelhead Award" is given in honor of a long-time member and dedicated TU volunteer who passed in 2022. Tim set the bar at the highest level for his commitment to TU goals, long term focus, leadership, dedication, and relationships with members and the local community.
A member and grassroots leader for 25 years, Dave Bouta exemplifies TU's mission, community and commitment to protecting Washington's incredible coldwater streams and native fish. For the Duwamish Green Chapter, Dave served as a long-time board member and as Vice President. He is a founding member of the Yakima Headwaters Chapter and currently serves as the Treasurer and Secretary. He has previously served as the Chapter's Fundraising Chair (four years), the Membership Chair (five years) and on the Conservation Committee (five years). He frequently works closely with the Washington Council of TU, serves on the board of the Mid-Columbia Fisheries Enhancement Group, and maintains key working relationships with partners at the Yakama Nation, the Washington Department of Fish and Wildlife, the Department of Natural Resources, and the Bureau of Land Management, among others.
Dave has been dedicated to every aspect of TU's work and events in the region. He designed, printed and helped install fishing regulation signage for the Teanaway River. He has managed monofilament line collection stations, spent years cleaning up trash on local streams and encouraging others to do so, helped install water temperature data loggers, and helped spearhead and run the Teanaway Westslope Cutthroat Trout studies with WDFW. He's organized fundraisers for the chapters and kept a solid hold on the chapters finances as Treasurer. As Dave often says, his commitment to the work boils down to his mantra "get out and do stuff for fish."